"Split Personality"

 at Brunswick Street Gallery, Fitzroy, VIC 3065, January 2023
An exhibition featuring small artworks of artists across Australia. The key feature of the exhibition was that the artworks should be smaller than 35X35 cm.
The painting portrays the visual interpretation of how our subconscious would look like if it was a tangible entity. The subconscious is the part of our mind which indirectly influences our actions or feelings. It's the inner knowing that enables us to distinguish on a level that almost becomes our natural reflex. It shapes our inherent nature or parts that we might not be aware of.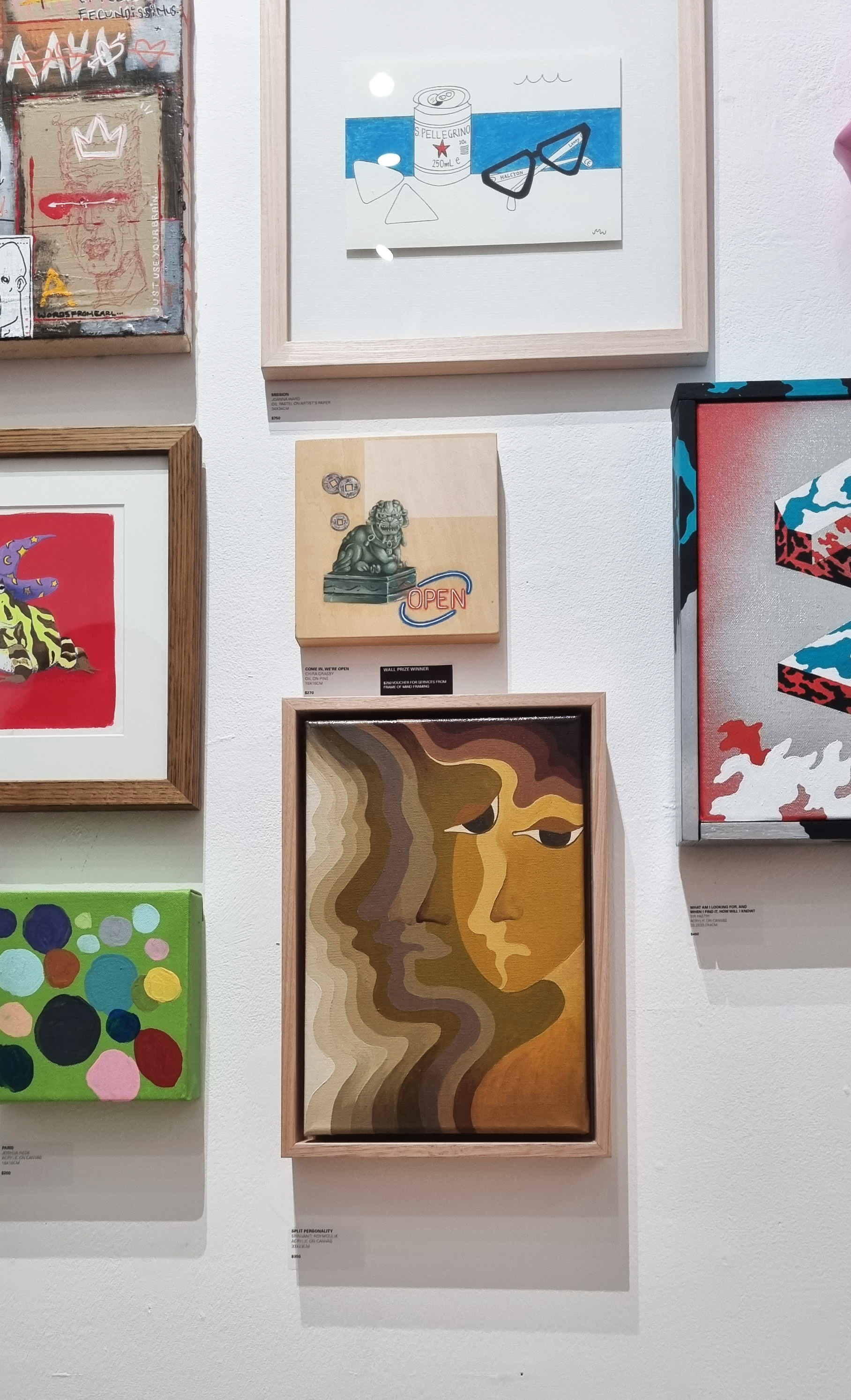 ____________________________
"Foot Square"

 at Aspire Gallery, Paddington, QLD 4064, December 2022
An exhibition featuring works of artists across Australia. The key feature of the exhibition was that the artworks should be smaller than 35X35 cm.
The 'Iran' series that was exhibited at the gallery is an artistic expression of deep discontent after witnessing the havoc in Iran. Coming from a fairly conservative background myself, I can very well relate to the women who have been oppressed for years and are now fighting to voice their opinions.
I primarily work with denim and here I have explored various surface treatments on denim through multiple dyeing and bleaching sessions. The bold use of colour red symbolises the bottled up anger and frustration, the black stroke symbolises 'hair' which the Iranian women are cutting  as witnessed in the protests and the light blue symbolises 'justice' that still awaits.
_________________________

"Arbitrary Reference"

 at Post Gallery, Brunswick West, VIC 3055, November 2022
Artists were given a randomly generated prompt, using Wikipedia and a month to create something unique.
_________________________
"Home"

 at 380 co, Collingwood, VIC 3066, July 2022
"In solitude, I found my home"
Ever since childhood, I have been moving from one place to another and was never able to have a single specific place that I could call home. This made me think about the true meaning of home and how it feels to come back to it. How did I feel each time when I wanted to be back to a place from a tiring day at work? Or, after walking around with that fake mask of what they call a true 'social being' simply to fit into the various ways of the society? 
This innate craving to belong somewhere has made us underestimate the moments where all we had was ourselves in our own solitude.  I understood in time that everything else changes and will change for good or bad. What never changes is the alone time with our own being where we can freely think and express without being judged or criticised. It's that one place where I can express all my emotions without thinking twice. Solitude has given me something to fall back on days when I just want to be left alone. In solitude, I found that peace which I have been looking for. In solitude, I found my home. 
MELBOURNE FASHION WEEK 2021 (The Fashion Capsule 7)
"Made by many"

at the Campbell's Arcade, Melbourne VIC 3000, August 2021.
"The individual is a great accumulation of all that is around them, present, past and even into the future. We could say, we are made by many. Celebrating the collective that is behind us all, we ask a selection of Melbourne's fashion designers, makers and artists, who is it that is behind them. Who inspires them, supports them and propels them to make wonderful ideas into reality"